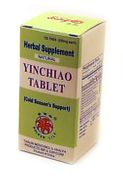 Yin Chiao Tablets (Cold Season's Support) is an all natural dietary herbal supplement. The ingredients of this remedy is specially selected for additional support during the cold season.

Directions: As a dietary supplement, take 4-5 tablets 3 times a day.

Contents: 120 tabs (250mg each)

Ingredients:
Honeysuckle flower, Forsythia fruit, Burdock fruit, Balloomflower root, Peppermint, Licorice root, Bamboo leaves, Fermented Soybean, Schizonepeta fineleaf

This statement has not been evaluated by the Food and Drug Administration. This product is not intended to diagnose, treat, cure, or prevent any disease.



Copyright(c) 2003-2015 OrientalPharmacy.com
All Rights Reserved.