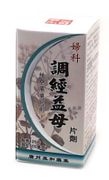 Femex Tea Extract is a traditional herbal supplement which provides a natural way to support the challenges of women's needs. Femex Tea Extract addresses the specific concerns of women.

Functions and indications:
Regulating menstrual and quickening the blood, dispelling stasis and engendering the new. Use for menstrual disorder, abdomen pain or residual postpartum static blood, postpartum uterus constringency badness .

Caution: Do not use if pregnant.

Ingredients:
Dan-Shen root, Nutgrass galingale rhizome, Largehead atractylodes, Tangkwei root, Dihuang prepared root, Szechwan lavage, Motherwort, White Peony root

Directions: As a dietary supplement, take 4-6 tablets 2-3 times a day.

Content: 120 tablets (500mg each)

This statement has not been evaluated by the Food and Drug Administration. This product is not intended to diagnose, treat, cure, or prevent any disease.


Temporarily Out Of Stock.




Copyright(c) 2003-2015 OrientalPharmacy.com
All Rights Reserved.