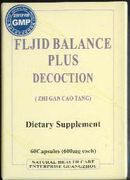 Licorice Combo Decoction , Modern Herbs of Classic Formulas is a series of traditional Chinese herbal supplements. It combines the ancient art of herbology with the advanced manufacturing techniques. All of the product's formulations are centuries-tested. Only the best herbs are selected and processed in our Good Manufacture Practice (GMP) facilities and under the strictest quality control. Detectable levels of microorganism and heavy metals are all within the safety limits required by regulatory agencies. It is the No. 1 choice by professional practitioners.

Actions
A traditional herbal formula that helps promote and maintain the body's well being.

Functions and indications:
To replenish the Qi(vital energy) and blood. To nourish the Yin(vital essence) and increase the pulse rate. For a person with deficiency of Qi and blood. The symptoms are : weakness, shortness of breath, palpatation, fatigue, insomnia, stool dry and hard formed. Tongue: light red with thin coating. Pulse: slow and uneven, intermittent, or feeble and rapid.

Caution: Do not use if pregnant.

Directions
As a dietary supplement, take 3 capsules each time, two times daily.

Active ingredients
Cassia(bark), Asian ginseng(root), Jujube(fruit).

Net Wt
60 capsules (600mg each)

This statement has not been evaluated by the Food and Drug Administration. This product is not intended to diagnose, treat, cure, or prevent any disease.


Temporarily Out Of Stock.




Copyright(c) 2003-2015 OrientalPharmacy.com
All Rights Reserved.