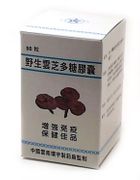 Functions and indications:
Tonifying up the immunological competence. Use for prevention and cure variety of diseases.

Packing: 50 capsules per box.

Caution: Do not use if pregnant.

Indications
Coriolus Versicolor Polysaccharide can increase the activities of T and B lymphacyte, macrophage and NK-cell, make the white cell return to normal and increase the contant of serum's complement C3 and ittnoglobulin(lgG), Can improve immune function of organism.

Directions
As a dietary supplement, take 2-3 capsules three times daily.

Active ingredients
Coriolus Versicolor Polysaccharide 300mg

This statement has not been evaluated by the Food and Drug Administration. This product is not intended to diagnose, treat, cure, or prevent any disease.




Copyright(c) 2003-2015 OrientalPharmacy.com
All Rights Reserved.