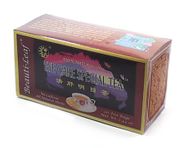 This tea is made of all natural herbs. This tea contains no caffeine nor preservative.

Ingredients:
Lycium Barbarum, Cassia Tora, Morus Alba, Chrysanthemum

Direction:
Use one or two teabags per cup. Add boiling water, steep 5-10 minutes. It can be served with honey or sweetner for flavor.

Contents:
20 teabags, Net Weight 1.44 oz

Warning:
Pregnant or nursing mother may transfer what she takes to her baby. Please consult with your physician before taking it. Always keep out of reach of children.

This statement has not been evaluated by the Food and Drug Administration. This product is not intended to diagnose, treat, cure, or prevent any disease.



Copyright(c) 2003-2015 OrientalPharmacy.com
All Rights Reserved.