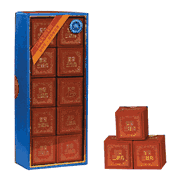 Actions
Supports the health of the back, blood, and brains, and the general well being of the body.

Directions
Take 1 to 2 drops daily, with warm water, or as directed by your health provider.

Active ingredients
Deer Penis, Oriental Ginseng Root, Deer Horn Pantotrichum, Astragalus Root, Dong-Quai Root, Whole Dried Gecko, Rehmannia Root, Chinese Dodder Seeds, Lycium Berries, Fennel Fruit, Chinese Spikenard Rhizome, Zanthoxylum piperitum D. C., Morinda Fruit, Asiatic Dogwood Fruit, Polyporus, Whole Dried Seahorse, Aloeswood Heartwood with Resin, Scurfy-Pea Fruit, Achyranthes Root, Chinese Yam Root, Actinolite, Fossil Bone, Epimedium Herb, Mantis Egg-Case, Eucommia Bark, Cinnamon Bark, Moutan Bark, Raspberry Fruit, Fo-Ti Root, Anemarrhena Rhizome, Atracylodes Rhizome, Alisma Rhizome, Polygala Root, White Peony Root, Cistanche Herb, Anemone Rhizome, Honey.

Net Wt
10 pills (612mg each)

This statement has not been evaluated by the Food and Drug Administration. This product is not intended to diagnose, treat, cure, or prevent any disease.
USA only



Temporarily Out Of Stock.




Copyright(c) 2003-2015 OrientalPharmacy.com
All Rights Reserved.